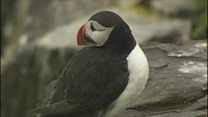 Video
Bempton Cliffs' puffin photos feed in to expert research
Photos of puffins taken by visitors at Bempton Cliffs in East Yorkshire are helping experts to understand the birds' feeding habits.
A survey by the RSPB invited birdwatchers to submit their pictures - many showing the birds carrying fish in their beaks.
The results suggest that some colonies are struggling to find large nutritious fish and the charity is warning that half the puffin population could disappear within the next generation.