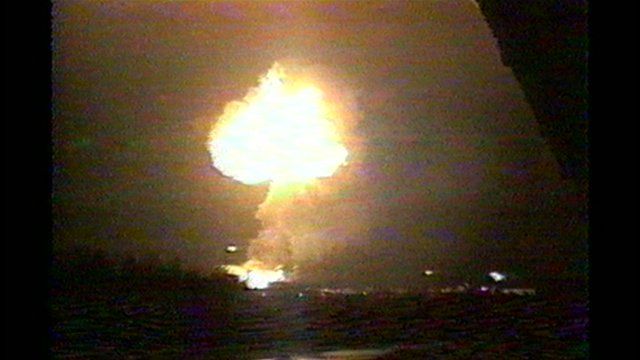 Video
IRA Warrington gasworks bomb 20 years on
One of the first paramedics at the scene of IRA bombs which exploded at a gasworks in Warrington 20 years ago said he feared thousands would be killed, including himself.
The fireball at the Winwick Road gasworks leapt 1,000ft (300m) into the air.
Dave Chadwick said: "It was so scary. The heat was so intense I thought I was going to die."
He said the "potential for fatalities was in excess of thousands" but the pressurized gas cylinders did not detonate and no one died in the three bomb blasts.
Earlier the same day, Mr Chadwick had treated PC Mark Toker who had been shot three times as he unsuspectingly pulled over the IRA gang as they left the gasworks after setting the bombs.
Mr Toker survived but less than a month later two bombs exploded in Warrington town centre which killed two boys, Johnathan Ball, three, and Tim Parry, 12, and injured 56 others.