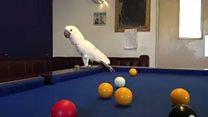 Video
Cockatoo barred from Darwen pub finds new local
A man who was told his pet parrot was barred from his local has found a new pub for them both.
David Wilson wanted to take his cockatoo Leo to the Old Chapel in Darwen, Lancashire, but due to Wetherspoon's policy that "pets aren't permitted with the exception of guide dogs" they could no longer go.
Mr Wilson said: "He is lovely and I don't think a parrot should be in the house caged up...He is a beautiful bird, timid, very friendly."
After hearing about Mr Wilson and Leo, the Victoria Pub in Darwen said it will accommodate them.