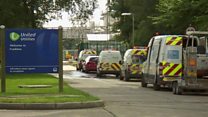 Video
'No clearer' over Lancashire water bug cause one year on
A year on from the water crisis that left 300,000 homes in Lancashire without drinkable tap water, investigators say they are still "no clearer" about what caused the contamination.
For more than 30 days, residents had to boil water after traces of the parasite cryptosporidium were found at a water treatment works near Preston.
United Utilities paid out £25m in compensation - an investigation by the Drinking Water Inspectorate is ongoing.