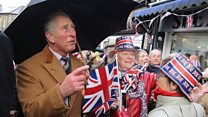 Video
Prince Charles meets Ribble Valley food producers
The Prince of Wales dodged a hailstorm as he stepped off the train to visit Lancashire food producers.
Prince Charles sampled food and drink including a Duke of Lancaster's Regiment sausage and Hen Harrier golden ale as he toured the Ribble Valley.
Hundreds of people lined Clitheroe town centre to meet the prince who was treated to a preview of produce for this summer's popular food festival.