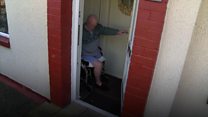 Video
Padiham amputee ex-soldier says he is 'prisoner in own home'
An ex-solider who had his leg amputated seven months ago is "a prisoner in his own home" after council delays to installing a lift at his door, he said.
Former physical training instructor Ernie Moore, 80, was told his house would be modified within weeks of him returning from hospital in October.
But he said Lancashire County Council failed to provide a step lift and he is "still a prisoner" in his Padiham home.
The council said: "We are sorry for our part in the delay."