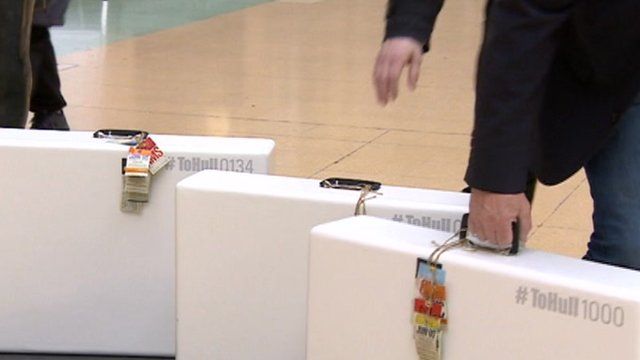 Video
Volunteer appeal for To Hull white suitcase project
One thousand white suitcases are to be taken from Hull to cities in the United States.
The art installation, called To Hull, will then travel from Europe to Hull, Liverpool, then New York and Chicago.
The suitcases follow the routes taken by migrants in the 19th century when Hull was a major trading post.
Around two million migrants are thought to have travelled through the city en route to America between 1846 and 1914.
Artist Huw Morris-Jones has appealed for volunteer "art carriers" and sponsors for the project, which will begin in March 2017.
Mr Morris-Jones said: "People will have the suitcases for roughly three weeks and will then be asked to take them from Hull to Liverpool, where they will place them on a sculpture.
"They can do what they want with the suitcases, as long as they get them there."
BBC Yorkshire's Arts Correspondent Anne-Marie Tasker reports.