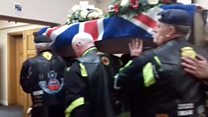 Video
Hundreds attend Stewart Cooney funeral
Hundreds attended the funeral of a soldier who served in World War Two and outlived his family.
Stewart Cooney, 95, served with the Royal Artillery and died in a care home in Leeds last month.
Hundreds attended his funeral at Rawdon crematorium, including Royal British Legion standard bearers, a piper and soldiers from his old regiment, following an appeal on social media.
One organiser, Martyn Simpson, said: "We never let a brother go alone."