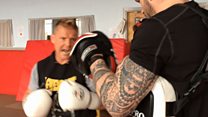 Video
Bare-knuckle boxing: Fighter prepares for bout of his life
The BBC has followed a West Yorkshire boxer as he prepared for a fight billed as the "biggest bare-knuckle boxing event in modern history".
Scott 'Pretty Boy' Midgley, from the Buttershaw Estate in Bradford, is part of a group that see themselves as pioneers of the modern era of the sport.
Thousands of people paid around £30 a ticket to watch the fight at the Coventry Skydome, which was sanctioned by the police and attended by medical staff.
Bare-knuckle boxing is legal, as long as strict rules are followed.
Go to next video: Bare-knuckle fighting on the rise