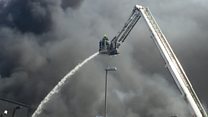 Video
Paint factory fire causes traffic disruption in Leicester city centre
Dramatic footage of a spray paint factory fire which caused smoke to billow around large areas of a city has been captured by onlookers.
The footage - courtesy of Pukaar News - comes after firefighters were called to L & M Spray in Leicester at 10:20 BST.
Police closed a number of roads and some fire engines remain at the scene.
An inspector has deemed the factory building "unsafe" and the site could be demolished, Leicestershire Fire and Rescue said.