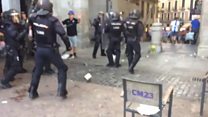 Video
Riot police confront Leicester fans in Madrid square
There have been fresh clashes between Spanish riot police and supporters of Leicester City in Madrid following Tuesday night's disturbances.
Police used baton charges to force some fans out of a city square, prompting further accusations of overreaction from British fans.
Eyewitnesses spoke of children being caught up in the trouble and police vans being driven at dangerous speeds.
Leicester supporters are in the Spanish capital for their Champions League quarter-final tie with Atletico Madrid.