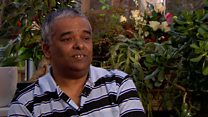 Video
Leicester explosion: Father's first interview after blast
A man whose wife and two sons died in an explosion in a Leicester shop has been speaking about his pain following the tragedy.
Jose Ragoobeer, who was speaking for the first time following the events of February, said he relives what happened every night before he goes to sleep.
He said that he has to be "very brave" for his 15-year-old son Scotty, who survived the blast.
The funerals of Mary Ragoobar, 46, and her teenage sons Sean and Shane will take place later on Friday.