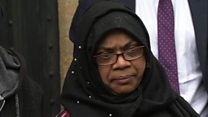 Video
Allergic pupil Nasar Ahmed 'let down' by Bow School, mother says
The mother of a boy who died after an allergic reaction to his school dinner says staff failed in their duty of care towards him.
Year Nine pupil Nasar Ahmed was in an exclusion room when he collapsed on 10 November last year, two hours after eating a meal of tandoori chicken made with milk, to which he was allergic.
Ferdousi Zaman said school first aiders should have given Nasar his EpiPen immediately.
Coroner Mary Hassell said it was a "possibility but not a probability" that had adrenaline been administered and speedier use made of an EpiPen, Nasar may have been saved.
12 May 2017

From the section

London