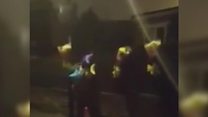 Video
Man tears down memorial to Hither Green 'burglar' Henry Vincent
Tributes to a suspected burglar who was stabbed to death in Hither Green have been torn down.
Friends and family of Henry Vincent, 37, had tied floral tributes to a fence opposite a home in south-east London where he was killed last week.
A man indentifying himself as Cecil Coley filmed himself removing the flowers overnight after becoming "infuriated" by the tributes.
He said: "It was a residential area they were placing flowers on. It was inappropriate, and the guy deserves no tribute."