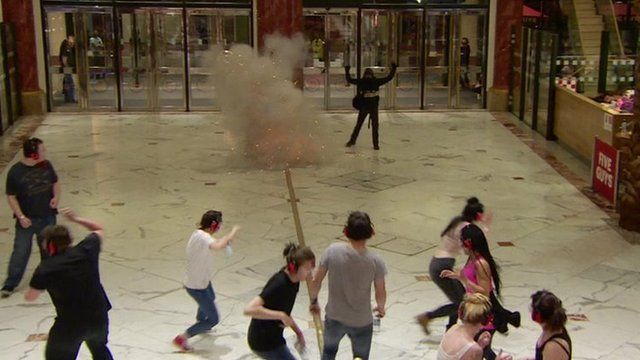 Video
Muslim Trafford Centre 'terrorist' exercise criticised
Greater Manchester Police (GMP) has apologised for using a Muslim "terrorist" in a mock terror attack staged at one of England's largest shopping centres.
The explosion was part of a counter-terrorism training exercise at the Trafford Centre, Greater Manchester to test the emergency response.
The "suicide bomber" shouted "Allah Akhbar" (God is great) while detonating a fake device but use of the phrase was criticised by Greater Manchester Mayor and Police Commissioner Tony Lloyd as "ill-judged and unnecessary".
Peace activist Dr Erinma Bell tweeted "a terrorist can by anyone" and "we need to move away from stereotypes". GMP admitted it was "unacceptable".