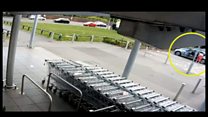 Video
Manchester attempted carjacking: Father saves son, 3
Dramatic footage has emerged of the moment a man rescued his three-year-old son during an attempted carjacking in Manchester.
As he came out of the Aldi supermarket in Garrett Way, Gorton, on Monday evening, he saw the boy's mother and brother, five, being forced out of their vehicle.
The father then raced over to the car before jumping in and tackling the would-be thief.
The suspect managed to escape and run off towards Gorton monastery.
Follow the latest news, sport, travel and weather from around Greater Manchester