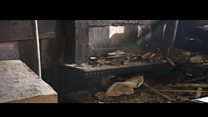 Video
Wythenshawe Hall: First look at fire-damage Tudor mansion
For the first time, footage has revealed the extent of damage at a Tudor mansion partially destroyed by a fire.
Wythenshawe Hall in Manchester, built in about 1540, received extensive roof and upper floor damage after a blaze on 15 March.
Work continues on the timber-framed building, which was once besieged by Oliver Cromwell's parliamentarian soldiers during the English Civil War.
Sue Murphy, deputy leader of Manchester City Council, says the response to the fire shows how many people care about it and its place in Manchester's history.