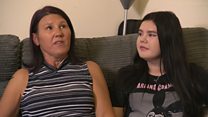 Video
Heather Campbell-Higgens and daughter Molly, 14, return to Manchester Arena
A mother and daughter who were at Manchester Arena on the night of the bombing are returning to the venue for its reopening concert.
Heather Campbell-Higgens and her 14-year-old daughter Molly, from Bolton, Greater Manchester, will be among the crowd for the We Are Manchester event on Saturday, headlined by Noel Gallagher.
The pair were at the Ariana Grande concert on 22 May when suicide bomber Salman Abedi detonated a homemade device, killing 22 people.