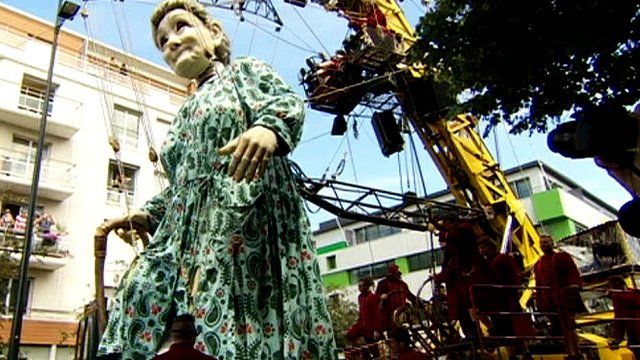 Video
Liverpool Giants: 'Grandma Giant' makes her debut
A French street theatre group bringing three giants to Liverpool as part of a show commemorating the centenary of World War One has unveiled one of its star attractions.
A delegation from Liverpool travelled to Nantes to see the debut performance of "Grandma Giant", which will be one of the stars of the Liverpool Giants parade.
The Memories of August 1914 show will take in Liverpool landmarks including St George's Hall, the Chinese Arch, the waterfront and the city's cathedrals.
"Little Girl Giant" and her dog "Xolo" will explore the city while the grandmother searches for them.
The event, running from 23 to 27 July, will end with the three giants sailing away on the River Mersey.