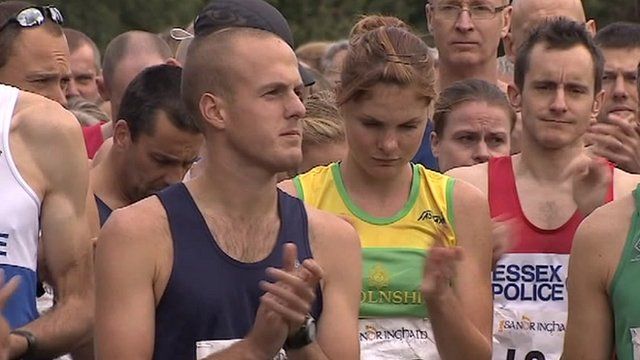 Video
Norfolk charity run tribute to Fiona Bone and Nicola Hughes
Hundreds of police officers from across England, Scotland and Wales have paid tribute to PCs Fiona Bone and Nicola Hughes, who were shot dead in Greater Manchester, ahead of a charity run in Norfolk.
More than 500 officers took part in the Police Sport UK 10-mile run on the royal estate in Sandringham.
The runners gave a minute's applause in memory of the two PCs and used the event as an opportunity to raise funds for Care of Police Survivors (COPS).
Phil Gormley, Chief Constable of Norfolk Police, said: "Last week's event really brought into sharp focus what policing is about and today we've got 500 police officers and staff coming together to try to help the families of survivors.
"The event itself was planned some time ago but it is a good opportunity for us to remember PCs Fiona Bone and Nicola Hughes together."