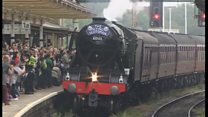 Video
Flying Scotsman crew once again see people on the line as the locomotive passes by.
Despite warnings telling people not to trespass on the railway, crew members from the Flying Scotsman said once again they had seen a number of people on the tracks as the historic locomotive passed by.
Thousands of spectators lined the route through Bedfordshire and Northamptonshire to view the locomotive on its way to York.
Earlier this year, spectators went onto the tracks at Biggleswade causing more than eight hours of delays on the East Coast mainline.
British Transport Police said this time it dealt with 10 to 20 incidents. Officers said the message to fans of the locomotive was to stay off the tracks and "stay safe".
Go to next video: Massive steam train gets makeover