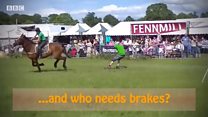 Video
Riders saddle up for extreme horseboarding
Riders are taking part in the extreme sport of horseboarding at the national championships.
The pursuit sees competitors, towed at 20-30mph, involved in "crash after crash".
Horseboarding is the brainchild of "extreme horse rider" Daniel Fowler-Prime from Nottinghamshire, and has rapidly grown in popularity over the past 10 years.
The event is taking place at Thoresby Country Show in the county this weekend.