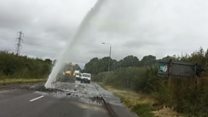 Video
Burst water main in Plumtree shoots through road
More than 2,000 people have been left without water and three schools have closed after a water main burst in a Nottinghamshire road.
Severn Trent Water said it was working on the pipe at Station Road, Plumtree and has brought in tankers filled with water to try to restore the water supply.
It is not yet known when the water supply in the Plumtree and Keyworth area will be back on.