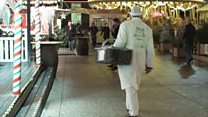 Video
Attack on Nottingham's cockle man led to cancer diagnosis
A cockle man believed to be one of the last traders of his kind left in the UK has revealed being beaten up on his rounds inadvertently saved his life.
Dave Bartram, 70, who has toured Nottingham's pubs on foot for over 50 years, said his ribs were broken during an attempted robbery in early March.
Mr Bartram said he discovered he had early-stage cancer when he visited a doctor about his injuries.