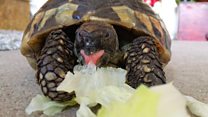 Video
Runaway tortoise found after nine months in Nottinghamshire
There was cause for "shell-ebration" after the owner of a tortoise was reunited with their pet - nine months after it crawled away from home.
Pippa, a 12-year-old Hermann's tortoise, is believed to have escaped from the front garden of a property on Milne Drive, Bircotes, Nottinghamshire, on June 18 last year.
She was found by dog walker Jessica Walker about 200 metres away. Owner Laura Tissington said Pippa has now been "grounded".