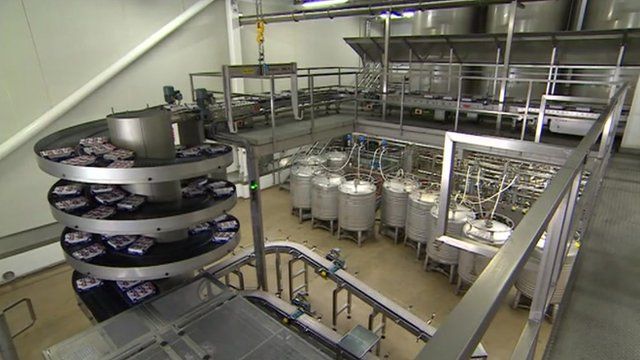 Video
Muller Wiseman Dairies Shropshire butter plant officially opened
A new £17m butter plant has been officially opened in Shropshire.
Muller Wiseman Dairies said 100 jobs had been created at the new factory at its Market Drayton base, which a spokesman claimed was the largest of its kind in Britain.
It is designed to process about 90,000 tonnes of cream a year and produce about 45,000 tonnes of butter, mainly for the commercial sector.
Chief executive for the Muller UK & Ireland Group Ronald Kers said: "We're actually accelerating our plans to also invest in a retail packet butter line, so as of the summer of next year we will be seeing retail packet butter on the shelves."
Farmers have previously blockaded the Market Drayton site over the price the firm pays them for milk, though the figure was increased in October.
But dairy farmer Andrew Porteous welcomed the firm's move into butter, saying: "It gives us a bit of stability in the market."
BBC Midlands Today rural affairs correspondent David Gregory-Kumar has had a tour of the new facility.