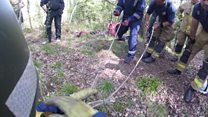 Video
Logan the lurcher rescued after 25ft fall down old lime kiln oven
A family taking their puppy for a walk ended up with a nervous wait for him to be rescued.
Logan, a seven-month-old lurcher, fell down a 25ft (7.6m) old lime kiln in Wellington, Shropshire.
His owner, Mick Braddock, thinks he must have become distracted while chasing a bird or a squirrel.
Shropshire Fire and Rescue Firefighter Chris Lockett was winched down the brick-lined pit to rescue the dog, who was fortunately unhurt and delighted to be rescued.