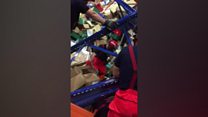 Video
Moment 'trapped by cheese' worker freed by firefighters
After an eight-hour rescue, footage captured by firefighters showed the moment a forklift driver is pulled free after being buried under 4,000 tonnes of cheese.
Tomasz Wiszniewski was trapped as huge metal racking collapsed inside the warehouse in Hinstock, Shropshire on Friday.
About 50 firefighters were brought in and Mr Wiszniewski was eventually freed uninjured.
Rescuers believe he was protected by a metal cage on his forklift, five metres beneath the mountain of cheese.
A Health and Safety Executive investigation is under way.