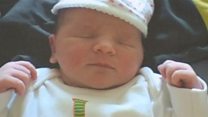 Video
Mother calls for group B strep tests after her baby died
The parents of a one-day-old girl who died from an infection contracted during birth want mothers to know they can be tested for the bug.
Pippa Griffiths died of a group B streptococcus (GBS) - the biggest cause of meningitis in newborns.
She had been born at home in Shropshire, but was airlifted to Royal Shrewsbury Hospital to be treated by a specialist crew from Birmingham.
Pippa's parents, Kayleigh and Colin Griffiths, want mothers to have the information so they can choose to be tested.
Go to next video: MPs debate Meningitis B vaccine for all