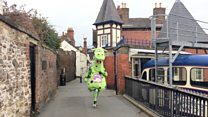 Video
Puff, the marathon-running dragon, is celebrated in print
A marathon runner who trundles 26 miles and 385 yards in a 15kg (2st) dragon costume has been immortalised in a new children's book.
Dana Power, aged 61, from Bridgnorth in Shropshire, has so far raised more than £35,000 for Asthma UK.
Most of the cash is collected in memory of a young boy from the town who died from an asthma attack.
Cameron Brown's mother Gemma wrote the book – and has also been inspired by Dana's efforts to take up long distance running herself.
Video Journalist: John Bray