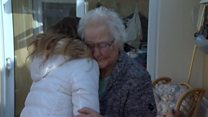 Video
Tears as scam victim Eileen Gould meets fundraiser
An 83-year-old woman, who was tricked into handing over £30,000 to conmen, has broken down in tears as a fundraiser handed over a cheque for £13,000.
Eileen Gould, from Somerset, was talked into withdrawing her savings and taking out a loan after being told that her bank was being investigated for fraud.
Lyndsey Brennan set up a Go Fund Me website appeal and dozens of people contributed money after hearing of Ms Gould's plight.
Ms Gould said the extra money has been "such a help" but said she had spoken out to save others.
Police are investigating the scam.