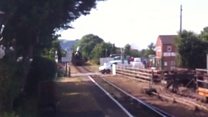 Video
Level crossing near collision in Dunster sparks inquiry
This is the moment a van almost collides with a steam train on a level crossing in Dunster, Somerset.
The motorist pulled onto the crossing in Dunster, North Somerset, but had to quickly reverse to avoid the train.
The moment was caught on camera by Barrie Smallcalder who was waiting for the 16:30 BST service on Tuesday.
Go to next video: Man and child in 'shocking' near-miss