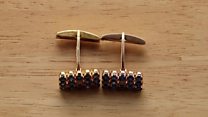 Video
Meet the man with thousands of cufflinks
With more than 2,500 pairs of cufflinks Steve Redmond is spoilt for choice.
Mr Redmond, who lives in Bath, has been collecting for 27 years and his pride and joy is a pair owned by the late Ernie Wise.
He took up the hobby at the age of 20 and reckons he uses 300 pairs per year.