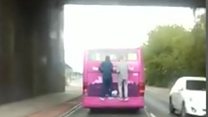 Video
Sheffield 'bus surfing' video prompts vehicle refit
Two men have been filmed clinging to the back of a moving bus in Sheffield.
Bus company TM Travel has begun fitting its vehicles with "anti surf" devices after the footage emerged.
Deputy general manager Paul Hopkinson said the products were being installed where there is "a high risk of this kind of behaviour".
The footage of two men clinging to a bus on Greenland Road, in Darnall, was published by Sheffield Online.
Mr Hopkinson added: "Whilst it may seem like fun at the time for these people, they are at risk of falling off and, more seriously, at a very high risk of being hit by other traffic."