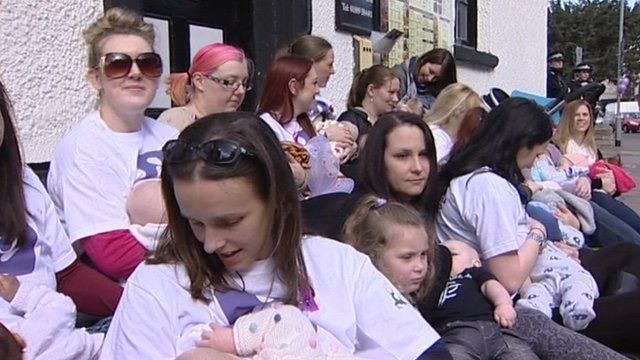 Video
Hundreds attend Rugeley breastfeeding demo
More than 600 people have attended a demonstration in the centre of Rugeley, Staffordshire, in support of a woman who was labelled a "tramp" for breastfeeding her daughter in public.
Emily Slough discovered a photo of her breastfeeding in Rugeley during a shopping trip had been anonymously uploaded to Facebook.
Dozens of women recreated the scene by breastfeeding their babies opposite The Shrew pub on Saturday.
Ms Slough said she had been amazed by the level of support, which also saw similar events take place across the country.
Sue Saxey, President of the National Childbirth Trust, said it was only natural to feed babies whenever and wherever they were hungry.