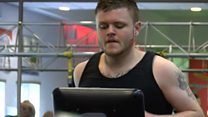 Video
Man loses four stone in Stoke-on-Trent health drive
A man from Stoke-on-Trent has praised a council obesity programme that he said had helped him lose four stone in just three months.
Andrew Canes said was approaching 18 stone before he joined the authority's LifeStyle campaign.
Stoke-on-Trent City Council has spent £7m on the programme over the last seven years.
Despite that, only a quarter of the 17,500 people who signed up lost weight, figures show, with thousands of locals residents dropping out.