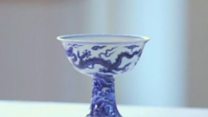 Video
A rare Chinese cup donated to Staffordshire University has sold for £3.1m
A rare Chinese cup donated to a university in the West Midlands has sold for £3.1m, after being found hidden in a cupboard.
It was among a collection of antiques which were given to Staffordshire University during the Second World War.
The cup, thought to date back to 1425, was discovered in an unlocked cupboard at the university's Ceramic Technology Department.
Earlier it was sold at an auction in Hong Kong.