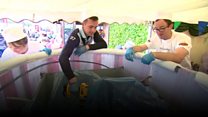 Video
Staffordshire farmers create 'world's largest milkshake'
Young farmers in Staffordshire claim to have created the world's largest milkshake.
The 1,000-litre strawberry milkshake was mixed in a special cup.
The world record attempt took place at the Staffordshire County Show and was partly designed to raise awareness about falling milk prices paid to farmers.
The young farmers' attempt is likely to take a few weeks to be verified by Guinness World Records.
The record for the biggest ever milkshake was set in the USA in 2000. While that stands at more than 22,000 litres, it was produced in a milk tanker, rather than a single vessel.