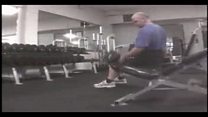 Video
Stoke-on-Trent bodybuilder jailed for benefit fraud
A Stoke-on-Trent bodybuilder and former Mr Universe contestant has been jailed for 12 months for falsely claiming disability benefits.
Malcolm Sherratt, 64, of Arbourfield Drive, said he had a bad back but was secretly filmed by Department for Work and Pensions (DWP) investigators working out in a Hanley gym.
The DWP said for eight years he claimed more than £46,000 in benefits, telling authorities he needed help cooking, getting dressed, washing and going to the toilet and that he sometimes needed a wheelchair or sticks.
But it said records showed he worked out twice a day and officials filmed him lifting weights.
At Stoke-on-Trent Crown Court, Sherratt was jailed for 12 months after admitting two counts of false representation and three counts of making a dishonest representation.
This video has no sound