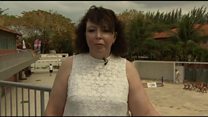 Video
Caroline Peaty relives son winning Olympic gold in Rio
Adam Peaty's mother has relived the moment he took gold in yet another world record-beating time at Rio 2016.
She said the win was one charged with emotion and a lot of "pride".
Caroline Peaty shadowed her son's early career closely, driving him to early morning training sessions and to competitions across the country.
Now 20 years old, the Uttoxeter-based swimmer is the world record holder, as well as the reigning Olympic champion, world champion and Commonwealth champion.