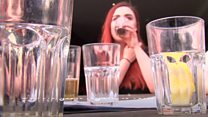 Video
General election: Staffordshire University students urged to vote
Two former Staffordshire students who are passionate about the importance of voting are encouraging their peers to take part.
The UK general election takes place on Thursday 8 June and many students will be at their term-time address.
Stoke-on-Trent had one of the lowest voter turnouts in the 2015 general election.
Darren Clarke and Emily Horsfall discovered many students in Staffordshire were not aware of the different voting options available to them - and even managed to persuade one student to register to vote for the first time.