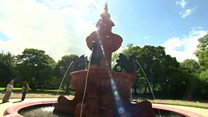 Video
Fountain in Stoke-on-Trent park brought back to life
Four water-breathing dragons in a Stoke-on-Trent park have been brought back to life.
The Hammersley Fountain was erected in Hanley Park in 1894.
After falling into disrepair, the fountain has finally been turned back on, perhaps for the first time in living memory.
The restoration of Hanley Park and the fountain has been backed by National Lottery grants.