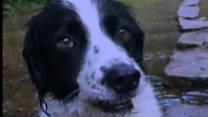 Video
Vet on Alabama Rot prevention advice for dogs
A dog has died and several others are being treated after contracting Alabama Rot disease in Staffordshire.
Little is known about the potentially fatal and incurable condition, which often leads to kidney failure in dogs.
It was first seen in the UK in 2012 and since then at least 109 dogs have been affected.