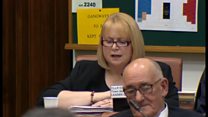 Video
Newcastle council leader quits and blames political rivals
The former Labour leader of Newcastle-under-Lyme Borough Council, in Staffordshire, says she had to quit because independent members on the authority withdrew their support for her administration.
And Councillor Elizabeth Shenton says she accepts no responsibility for failures at the council that meant 1,000 people were unable to vote in June's general election.
She was replaced by Conservative Simon Tagg at a meeting on Tuesday evening and in her leaving speech she accused the Conservatives "and their allies" of destabilising the council at a difficult time.
Two senior council staff are still suspended following the investigation into the election errors.