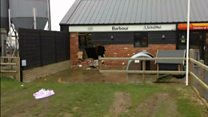 Video
Jimmy's Farm raid nets 100 Barbour and Schoffel jackets
Ram-raiders have stolen hundreds of items from an independent store at the farm belonging to TV celebrity Jimmy Doherty.
The raid took place late on Wednesday night, and more than 100 items of branded goods were stolen.
A car was driven through a fence and into a wall of the Clarkes of Walsham shop at Jimmy's Farm at Wherstead, just south of Ipswich.
Police are investigating the possibility of a link with two other ram-raids reported in Hadleigh and Woolpit.