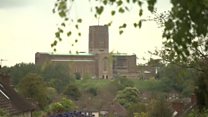 Video
Guildford Cathedral is to stay open despite warnings over its finances
Guildford Cathedral is to stay open despite warnings it may have to close over financial problems.
The Bishop of Guildford had warned it would "probably" have to shut down after the council refused planning permission to sell off land for houses.
The building is in the final stages of a restoration project worth £7m, which has included removing asbestos throughout the cathedral.
Susan Barry, head of fundraising, said the cathedral cost £3,500 a day to run and the average donation from each visit was 35p.
"There is still a minimal risk of closure in the longer term, but staff and the Guildford community are determined to keep the cathedral open for free, 365 days a year," she said.
27 Apr

From the section

Surrey