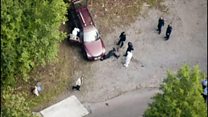 Video
Alps Murder: 'No progress' five years on
The brother of a British man shot dead on a family holiday in the French Alps says he is frustrated with the lack of progress in the investigation.
The bodies of Saad al-Hilli, his wife Iqbal and her mother, Suhaila al-Allaf, were discovered on a remote forest road on 5 September 2012.
The couple's two young daughters survived the shooting near Lake Annecy.
Zaid al-Hilli said: "The initial investigation [by French investigators] has been a total failure."