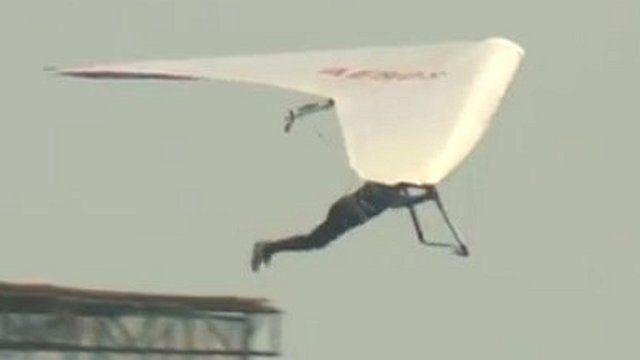 Video
Ron Freeman's record £10,000 Worthing Birdman flight
Two men shared a £10,000 prize when they became the first people to fly more than 100m (328ft) at the Worthing International Birdman competition.
Ron Freeman from Newbiggin-by-the-Sea, Northumberland, flew 159.4m (522ft) in his adapted hang-glider while Tony Hughes, from Marlborough in Wiltshire, reached 117.1m (384ft).
Mr Freeman described his flight as "perfect" and paid tribute to Mr Hughes' attempt which he called "inspirational".
The annual two-day event in West Sussex sees competitors throw themselves off Worthing Pier in various home-made contraptions.
Pictures courtesy of Worthing Birdman
Go to next video: Dreaming of birdman success