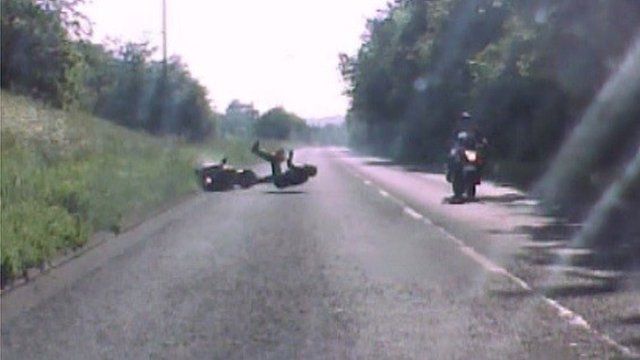 Video
Wheelie Sussex biker escapes crash and jail
A motorcyclist has avoided serious injury and a prison sentence after coming off his bike and hitting a van while attempting a wheelie at 70mph.
Cameras on Lee Oliver's bike and in the oncoming van captured the high-speed crash at Uckfield in East Sussex in May.
Oliver, 38, and fellow rider Lee Cunningham, 39, had reached speeds of about 130mph shortly before the crash, Sussex Police said.
Sgt Hew Watts said: "It seems amazing that Oliver escaped with just minor injuries and concussion."
Oliver, of Oakleigh Road, Horsham, and Cunningham, of Brighton Road, Horsham, both pleaded guilty to dangerous driving at Lewes Crown Court and were given 18-month suspended prison sentences.
They were also each fined £1,000 and ordered to pay £700 costs.