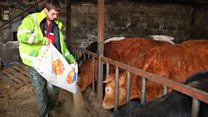 Video
The 15-year-old County Durham farmer
Teenager Kieran Featherstone says "he would choose farming over living in the city any day".
The 15-year-old works on a farm in Ireshopeburn, in County Durham, and says farming is in his blood.
He says the thing he enjoys most is bringing new life into the world and recently helped calve a cow for the first time.
Sunday Politics in the North East and Cumbria has been speaking to young people as part of a series looking at whether 16-year-olds should get the vote in England, as they do in Scotland.­
You can watch the programme at 14:15 BST on BBC One on Sunday 22 April.